We offer a complete selection of flooring systems that can be customized to meet your design and functional needs. We use only quality products from a variety of different manufacturers to create a durable, beautiful and long lasting floor. We are certified installers for Dur-A-Flex,  Sherwin Williams/General Polymers, Silikal, International Coatings and Florock products.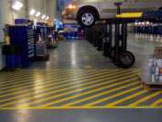 Concrete Sealers
When you want to preserve and protect your new or used concrete floors. These coating systems can improve light reflection, appearance and ease of cleaning.
Typical uses: warehouses, machine shops, hangers, garages and walkways.
---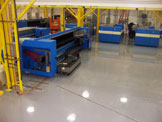 Coatings
When you want to protect and seal your floors with a high build floor coating. Available in unlimited colors and formulated to deter oil, grease, gas, salt and detergents. Available in chemical, UV and abrasion resistant formulas.
Typical uses: clean rooms, laboratories, light assembly areas, laundries, marine uses, pharmaceutical plants and warehouses.
---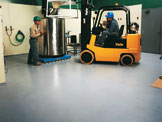 1/4" Overlays
When you need protection for your existing concrete or total restoration to worn or damaged concrete. This is the ultimate impact resistant system with four times the compressive strength of concrete.
Typical uses: warehouses, automotive dealerships, manufacturing facilities.
---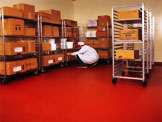 Urethane Cements
When you need protection against thermal shock, chemical attack, bacterial and abrasion resistance.
Typical uses: Food processing plants, commercial kitchens, freezers, chemical processing areas.
---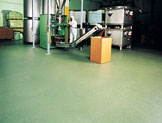 Methyl Methacrylate (MMA)
Product by Dur-A-Flex, Inc. When you need fast curing, temperature insensitive, chemical/shock resistant and UV stable floors. Because of the fast cure times there is minimal business interruption. These floors are VOC compliant, meets USDA, FDA requirements and come in a variety of slip resistant textures for safety.
Typical uses: Freezers, pharmaceutical plants, kitchens, labs, chemical facilities, food processing plants, machine shops, dairies, public facilities.
---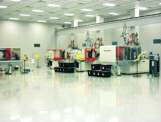 ESD Control Flooring Systems
Product by Dur-A-Flex, Inc. or Florock, Inc. When you need static dissipative and conductive coatings. These floors are easy to maintain, outperforms tile and ends the need for stripping and application of expensive conductive waxes.
Typical uses: Microchip manufacturers, hangars, military facilities.