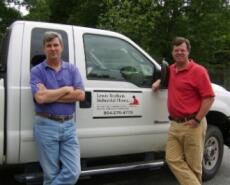 Ralph Lewis started the business almost 50 years ago as American Seamless Floors, Inc., and was a pioneer in Virginia for epoxy floor systems.  He built his business on a residential market but his sons, Thad and Steve Lewis, have expanded the business to include an industrial and commercial division that operates today as Lewis Brothers Industrial Floors, Inc.

We continue to be a family owned and operated company with the same values that has made us successful over the decades. 

We have a knowledgeable staff with many years of service.  Our staff receive ongoing safety training to ensure job site safety.  Lewis Brothers Industrial Floors, Inc. is a fully insured, SWaM certified business as well as as a Virginia Class A contractor.